In early 2020 I created a Twitch stream that I stream on some (but not all) weeks. The series is informally titled Twitch Solves ISL (here ISL is IMO Shortlists).
Content includes:
Working on IMO shortlist or other contest problems with other viewers.
Twitch chat asking questions about various things
Games: metal league StarCraft, AoPS FTW!, Baba Is You, etc. I have a preference for somewhat difficult puzzle games.
I also upload past broadcasts to YouTube. A Discord server also exists centered around the stream.
Twitch schedule
You can find a schedule for the stream, also below. Friday night at 8pm Eastern is the usual time.
Streaming setup
Software used on the stream includes:
Hardware:
Gaming headset: Xiberia V22
Mechanical keyboard: Havit HV-KB395L
Mouse: Inateck MS 1001
Gaming PC: MSI Codex XE Plus MSCXEP9SC292
Monitors (x3): BenQ 24" IPS GW2480 + ASUS VE278Q 27" + Sceptre 32" QHD (E325W-2560AD)
Here is a picture of my physical setup (click to enlarge).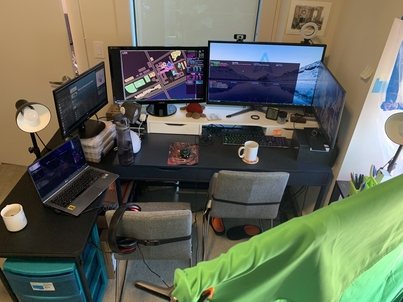 Archive of past problems
I take problem requests at the start of each Twitch stream from viewers in exchange for channel points. (Channel points are earned by watching the live streams.)

Last modified: Wed Apr 21 15:26:06 2021.