During my time as a high school student, I participated extensively on mathematical olympiads. I was a USAMO winner in 2014 (score 41) and earned a gold medal as TWN2 at the 55th IMO 2014 in Cape Town, South Africa.
I also attended the 30th Research Science Institute in 2013.
Photos#
Here is a lower bound on how much scratch paper I used for contest preparation over my four years of high school.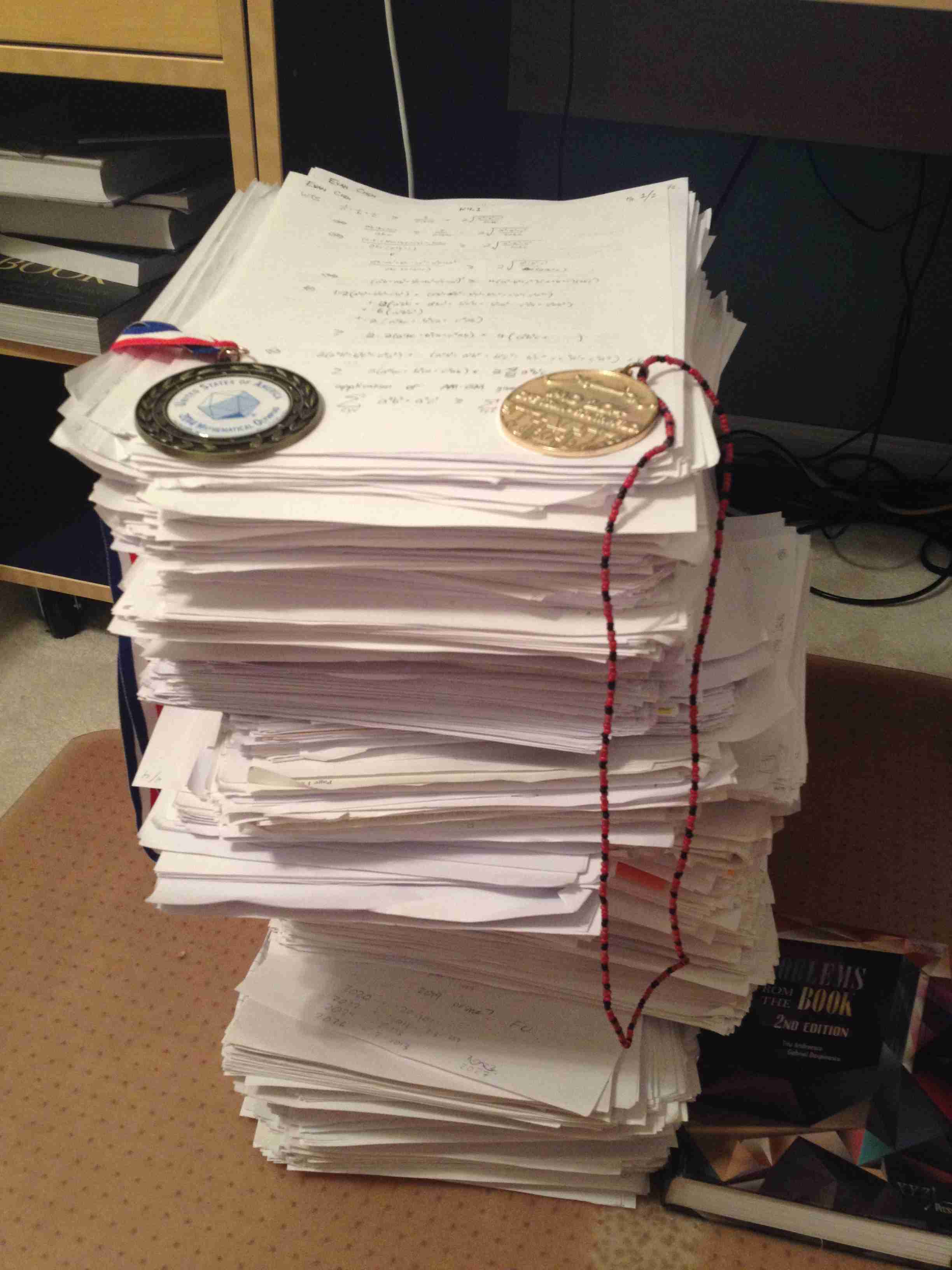 The medal on the left is a USAMO winner medal; the medal on the right is an IMO gold medal.
Score log#
Here were my scores on various contests over the years, in reverse chronological order. These probably should not be taken very seriously, but I'll forget them if I don't write them down.
For actual advice on preparing for contests, see Contest FAQs.
(Scores for TSTST are approximate since papers were not returned.)
2014 season
2013 season
AMC 12A 2013: 121.5
AMC 12B 2013: 115.5
AIME I 2013: 14
APMO 2013: 35 (perfect)
USAMO 2013: 8
2012 season
AMC 10A 2012: 141
AMC 12B 2012: 123
AIME I 2012: 10
USAMO 2012: 21
TSTST 2012: 40 (approximate)
2011 season
AMC 10A 2011: 132
AMC 12B 2011: 105
AIME I 2011: 5
USAJMO 2011: 29 (won)
ELMO 2011: 14 (silver)
TSTST 2011: 0 (approximate)
2010 season
AMC 8 2009: 25
AMC 10B 2010: 130.5
AIME I 2010: 6
USAJMO 2010: 37 (won)
2009 season
AMC 8 2008: 24
AMC 10B 2009: 87.0